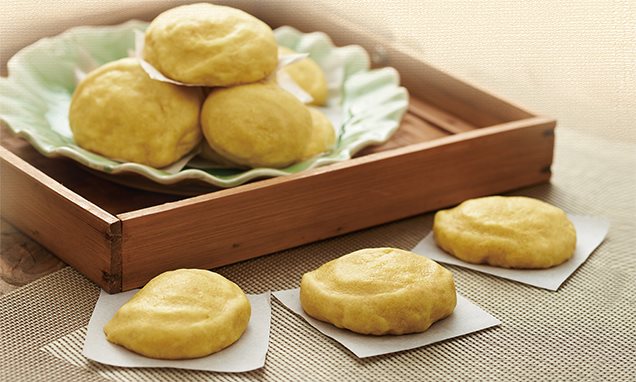 Pumpkin Mantao
Pumpkin Mantao Created by Oriental Cuisine
Recipe Ingredients
How to Prepare
How to Prepare:
Steam pumpkin for about 10 minutes or until soft. Mash and leave to cool.
In a mixing bowl, combine Dr. Oetker Nona Pau Flour, Dr. Oetker Nona Baking Powder, sugar and salt. Add in pumpkin puree and mix well.
Add in Dr. Oetker Nona Vegetable Shortening and Dr. Oetker Nona Instant Yeast, then gradually add in water while kneading. Continue kneading the dough until it is soft, smooth and no longer sticky. Add more flour if the dough is too soft.
Place the dough in a lightly oiled bowl, cover with cling wrap, rest for 20 minutes in room temperature.
Dust the working surface with pau flour, gently punch the dough to deflate and knead for 1-2 minutes.
With a rolling pin, roll the dough into a 35cm x 20cm rectangle. Brush the dough surface with water, then roll the dough like a Swiss roll.
Roll the elongated dough until it reaches 45-50cm length.
Cut out both ends and divide the remaining dough into 8-10 portions. Place them on baking paper and proof for 30 minutes until they double in size.
Steam for about 10-12 minutes.
PLEASE RATE THIS RECIPE
How did this recipe go?
PLEASE RATE THIS RECIPE
How did this recipe go?
More delicious ideas for you
Follow Us
Follow Dr. Oetker Malaysia