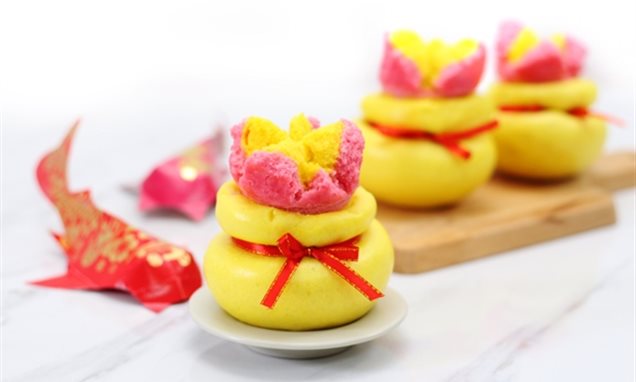 Prosperity Huat Kueh
Delicious recipe for breakfast
Recipe Ingredients
How to Prepare
Recipe Ingredients
For Rice Cake (Huat Kueh/ Kuih Apam)
Buy the Products
How to Prepare:
For Prosperity Pouch
In a mixing bowl, combine pau flour, instant yeast and water into a dough. Knead for 5 minutes or until it is smooth.
Add in vegetable shortening and continues knead for another 10 to 15 minutes or until the dough is soft, elastic and shiny.
Mix with yellow colour, cover and rest for 15 minutes.
Lightly knead the dough to release air bubbles. Divide the dough into 6 portions (about 35g each).
Roll each portion into a ball and make the lucky bag shape by using a tea porcelain cup (refer the video of how to make lucky bag). Cover and let it proof for 60 minutes.
Bring water to boil in a steamer. Steam the pau on medium heat for 10 minutes, Turn off the heat and let the pau sit in the steamer for 5 minutes. Serve hot.
For Huat Kueh/ Kuih Apam
Place sugar, water and oil in a mixing bowl. Mix until the sugar well dissolved.
Fold in Dr. Oetker Nona Self-raising flour and baking powder, mix well.
Pour 1/3 of the batter in a bowl, add 1 drop of red rose colour, mix well.
Add 2 drops of egg yellow colour into the remaining batter, mix well.
Place paper cups in the muffin mould. Pour the yellow batter to the paper cups until ¾ full. Spread 1 tablespoon of red batter on it.
Bring the water to boil. Cover with a clean cloth and steam for 15 minutes.
PLEASE RATE THIS RECIPE
How did this recipe go?
PLEASE RATE THIS RECIPE
How did this recipe go?
More delicious ideas for you
Follow Us
Follow Dr. Oetker Malaysia