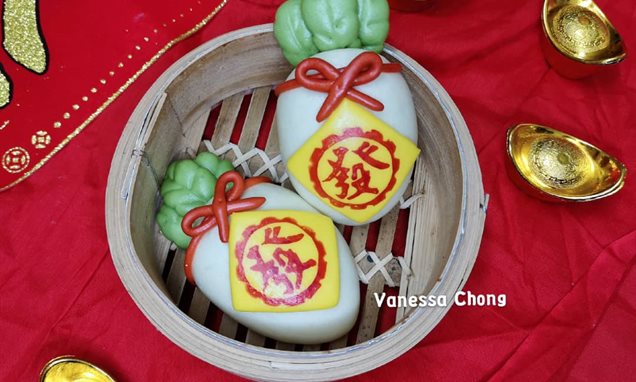 Good Fortune Mantou (好彩头馒头)
Soft and fluffy mantou specially made to celebrate the Chinese New Year *Created by Chef Vanessa (蒸美味Flour Garden)
Recipe Ingredients
How to Prepare
How to Prepare:
Place Dr. Oetker Nona Plain Flour, instant yeast, castor sugar, water and corn oil in the mixing bowl. Mix well and knead for 10 minutes or until it become smooth dough.
Divide the dough into 6 portions (about 40g each), cover with the food wrap to prevent drying out and keep the remaining dough aside. Roll the dough into water drop shape and place on the baking paper.
Divide the remaining doughs into 3 portions. Mix each of the dough with rose red colour, apple green colour and egg yellow colour.
Flatten the yellow dough and cut into square shape. Dab water on top of the water drop dough and stick with the square dough.
For the leave, divide the green dough into 3 portion (about 5g each). Each dough divide into 3 portion again, roll into water drop shape, use a toothpick to make the leaf petal. Place the leafs at one side of the original dough.
For the ribbon, combine yellow dough (about 3g each) and red dough (about 3g each) until well combine. Use the red dough make into ribbon shape.
Cover and let it proof for 20-30 mins.
PLEASE RATE THIS RECIPE
How did this recipe go?
PLEASE RATE THIS RECIPE
How did this recipe go?
More delicious ideas for you
Follow Us
Follow Dr. Oetker Malaysia