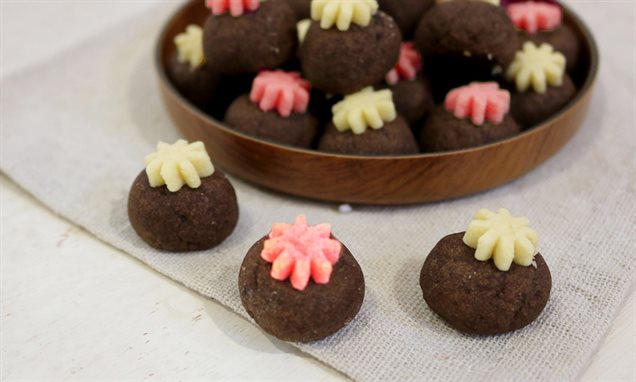 Mini Chocolate Balls
Simply Mini Chocolate Balls for everyone
Recipe Ingredients
How to Prepare
Recipe Ingredients
For Tarts
2 tbsp
Dr. Oetker Nona Cocoa Powder
Untuk Tat
200 g
Mentega (dilembutkan)
2 sudu besar
Serbuk Koko Dr. Oetker Nona
Buy the Products
How to Prepare:
Preheat oven to 150˚C.

Panaskan ketuhar pada suhu 150˚C.
Place Dr. Oetker Nona Tarts, butter and egg in a mixing bowl. Mix well.

Masukkan Adunan Tat Dr. Oetker Nona, mentega dan telur ke dalam mangkuk, gaul sebati.
Keep 50g of dough aside and mix the remaining dough with cocoa powder.

Asingkan 50g doh dan gaulkan doh selebihnya dengan serbuk koko.
Roll the cocoa dough to 1cm ball and place in the lined baking tray.

Bentukkan adunan koko menjadi bebola (lebih kurang 1cm). Susun di atas dulang pembakar beralas.
Divide 50g of dough into two, mix one of the dough with rose red colour.

Bahagikan 50g doh kepada 2 bahagian. Gaulkan pewarna ros merah ke dalam 1 bahagian dan uli sehingga sebati.
On a floured surface, falttent the original dough and red colour dough. Cut the dough into flower shapes with cookie cutter and place the flower dough on top of chocolate ball.

Taburkan meja dengan tepung, ulikan doh koko dan doh pewarna ros merah. Terapkan doh dengan acuan bunga dan letakkan doh bunga di atas coklat berbola.
Bake at 180˚C for 15 minutes.

Bakar pada suhu 150˚C selama 15 minit.
PLEASE RATE THIS RECIPE
How did this recipe go?
PLEASE RATE THIS RECIPE
How did this recipe go?
More delicious ideas for you
Follow Us
Follow Dr. Oetker Malaysia