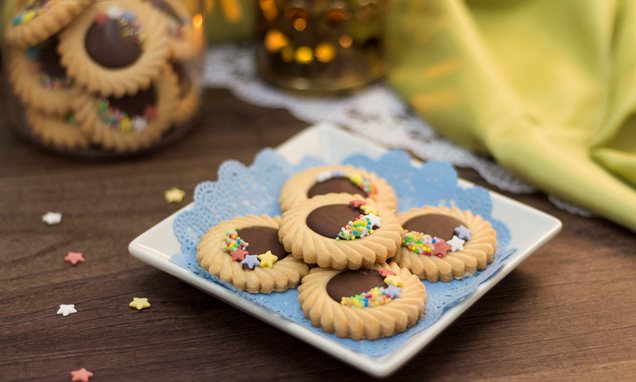 Mini Chocolate Tarts (Tat Coklat Pelangi)
See how beatuiful these mini chocolate tarts look!
Recipe Ingredients
How to Prepare
Recipe Ingredients
Untuk Tat
200 g
Mentega (dilembutkan)
Gula Hiasan Bintang Dr. Oetker Nona
Buy the Products
How to Prepare:
Preheat oven to 180˚C.

Panaskan ketuhar pada suhu 180˚C.
Place Dr. Oetker Nona Tarts, butter and egg in a mixing bowl. Mix well.

Masukkan Adunan Tat Dr. Oetker Nona, mentega dan telur ke dalam mangkuk. Gaul sebati.
On a floured surface, roll the dough 0.5cm thickness. Cut the dough into shapes with cookie cutter, place on a lined baking tray.

Taburkan meja dengan tepung. Ulikan doh setebal 0.5cm. Terapkan doh dengan acuan biskut dan susunkan di atas dulang pembakar.
Bake at 180˚C for 12 - 15 minutes or until golden brown.

Bakar pada suhu 180˚ C selama 15 minit atau sehingga warna kuning keemasan.
Melt cooking chocolate in a bowl with microwave oven or by double-boiling.

Cairkan Coklat Masakan Dr. Oetker Nona dengan microwave atau "double-boil".
Fill the sunken part with melted Dr. Oetker Nona Cooking Chocolate and decorate with some sprinkles. Leave to set before serving.

Isikan bahagian tengah biskut dengan coklat dan hiaskan dengan gula manik and gula hiasan bintang. Biarkan sejuk, hidangkan atau simpan di dalam bekas kedap udara.
PLEASE RATE THIS RECIPE
How did this recipe go?
PLEASE RATE THIS RECIPE
How did this recipe go?
More delicious ideas for you
Follow Us
Follow Dr. Oetker Malaysia