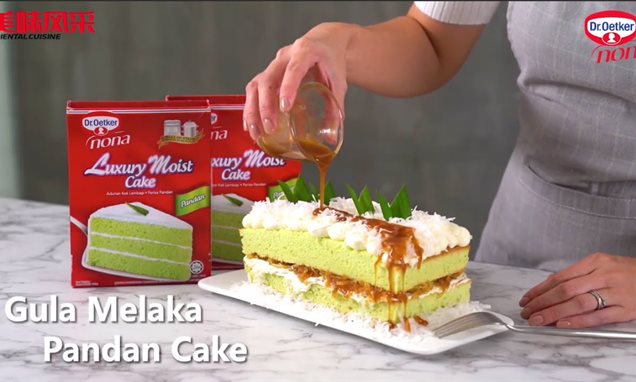 Gula Melaka Pandan Cake
These Gula Melaka Pandan Cake is very well loved in Malaysia *Created by Oriental Cuisine
Recipe Ingredients
How to Prepare
Recipe Ingredients
For Coconut & Gula Melaka Filing
100 g
Gula Melaka (chopped)
2
Pandan Leaves (knotted)
Buy the Products
How to Prepare:
Place Dr. Oetker Nona Luxury Moist Cake Pandan, eggs, and water in a mixing bowl. Mix at high speed for 3 minutes.
Add in vegetable oil and mix at low speed for 1 minutes or until batter is light and fluffy.
Pour batter in a greased 10inch x 10inch square baking pan. Bake at 180°C for 55 minutes, set aside.
Cut the cake into half using a long serrated knife
For coconut filing, place the gula melaka, water and pandan leaves in the saucepan. Cook at low heat until the sugar well dissolve and mix well with santan. Keep a small amount of gula melaka sauce for drizzle. Fold in half of the shredded coconut and cook until the coconut completely absord with gula melaka.
For buttercream filling, beat butter and icing sugar at high speed until stiff peaks form.
Place a layer of cake on a serving plate, spread a layer of buttercream, followed by the coconut filing.
Pipe buttercream on top of the cake, sprinkles with remained shreaded coconut and decorate with pandan leaves. Drizzle with gula melaka sauce.




Video recipes : Click here
PLEASE RATE THIS RECIPE
How did this recipe go?
PLEASE RATE THIS RECIPE
How did this recipe go?
More delicious ideas for you
Follow Us
Follow Dr. Oetker Malaysia