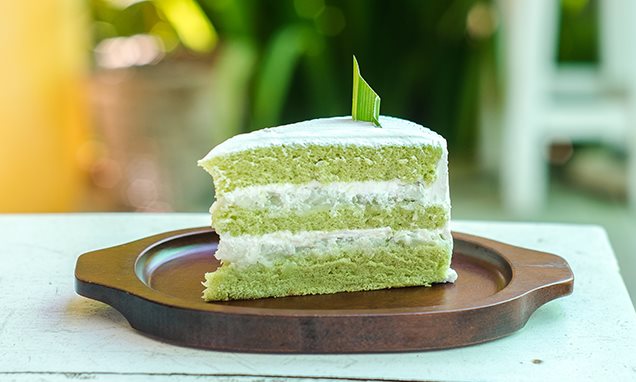 Coconut Pandan Moist Cake
Enjoy an exquisite coconut-pandan flavoured cake, evenly layered with a delightful texture of vanilla cream.
Recipe Ingredients
How to Prepare
How to Prepare:
Bake: Preheat oven to 180˚C.
Steam: Bring water to boil in a steamer.
Place Dr. Oetker Nona Luxury Moist Cake Pandan, coconut milk and eggs in a mixing bowl. Mix at high speed for 3 minutes.
Add in vegetable oil and mix at low speed for 1 minutes or until batter is light and fluffy. Fold in shredded coconut and mix well.
Pour batter in a greased 20cm round baking pan. Bake at 180°C for 55 minutes or steam for 55 minutes. When the cake is cooled completely, cut into 3 portions horizontally.
Beat whipping cream and vanilla flavour at medium speed until stiff peaks form.
Place the first cake on a serving plate and spread a layer of cream evenly. Repeat with the second cake and finally place the third cake on top. Cover the reminder of the cream over the top and sides of the cake.
PLEASE RATE THIS RECIPE
How did this recipe go?
PLEASE RATE THIS RECIPE
How did this recipe go?
More delicious ideas for you
Follow Us
Follow Dr. Oetker Malaysia