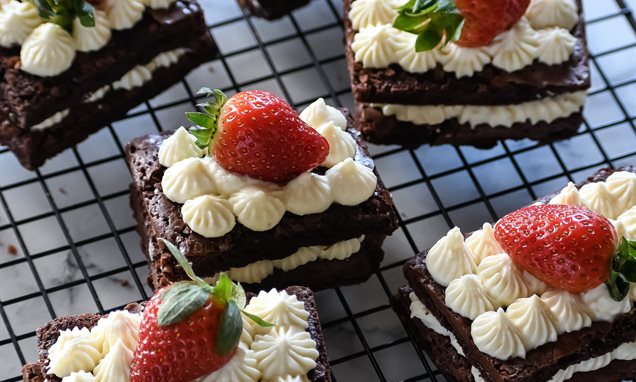 Cream Cheese Brownies
Adorable brownies with some creamy cheese filling! Simple to make and best to serve for any occasion! *Recipe Created by Kuali Helena*
Recipe Ingredients
How to Prepare
Recipe Ingredients
For Cream Cheese Filling
300 g
Cream Cheese (room temperature)
100 g
Butter (softened at room temperature)
1.3 cups
Non Diary Whipped Cream
Untuk krim keju
300 g
Krim Keju (suhu bilik)
100 g
Mentega (dilembutkan)
1.3 cawan
Krim Putar Bukan Tenusu
Buy the Products
How to Prepare:
Preheat oven to 180°C.

Panaskan ketuhar pada suhu 180°C.
Line the baking mould with baking paper and set aside.

Lapik kertas kalis minyak dalam dulang pembakar.
In a mixing bowl, place in 1 box of Dr. Oetker Nona Brownies Original, egg, water and vegetable oil. Stir to mix well.

Satukan tepung Brownies Dr. Oetker Nona, minyak, air dan telur di dalam mangkuk. Kacau sebati.
Divide the brownies batter into 2 portions and bake for 55 mins.

Bahagikan adunan brownies kepada 2 bahagian dan bakar selama 55 minit.
For the cheese filling, add cream cheese, butter and icing sugar in another mixing bowl and beat on medium-low speed until smooth.

Untuk bahagian keju berkrim, pukul mentega, krim keju dan gula aising sehingga kembang dan halus.
Then, add in vanilla essence and stir well. Fold in non diary whipped cream, continue to beat until stiff peaks form. Keep the cream cheese filling in your fridge before using.

Masukkan perisa vanila Dr. Oetker Nona dan kacau lagi. Kemudian, masukkan krim putar dan pukul dalam beberapa saat sehingga gebu dan tidak cair. Sejukkan krim keju tadi dalam peti sejuk sebelum digunakan.
Pipe the cream cheese over one brownie, cover with another brownie and press together to make a sandwich. Decorate the top of brownies with your desired fruits.

Paipkan krim keju di atas brownies yang siap dibakar. Letak lagi sekeping brownies di atas brownies yang dipaipkan dengan krim keju dan hiaskan bahagian atas dengan buah-buahan kesukaan.
Video Recipe: Click Here
PLEASE RATE THIS RECIPE
How did this recipe go?
PLEASE RATE THIS RECIPE
How did this recipe go?
More delicious ideas for you
Follow Us
Follow Dr. Oetker Malaysia