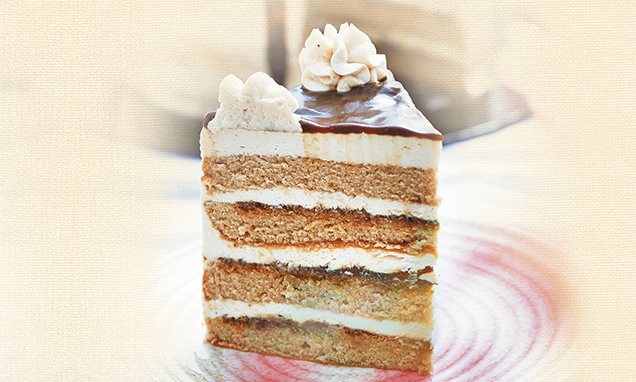 Teh Tarik Cake
Recipe Created by Oriental Cuisine
Recipe Ingredients
How to Prepare
Recipe Ingredients
For Sponge Cake
40 g
Ground Almonds (toasted)
For Cream Cheese Frosting
250 g
Cream Cheese (room temperature)
15 g
Gelatine + 45 ml Water
300 g
Non Dairy Sweetened Cream (whipped)
Buy the Products
How to Prepare:
Bring water to boil, add in tea dust to infuse the tea, strain. Set 4 tbsp. of tea aside for later use. Add condensed milk to the remaining tea to make teh tarik.
For sponge cake, line two 8 inches round cake pans.
Cream all cake ingredients together except for the melted butter with an electric mixer until batter is fluffy. Add in melted butter, mix well.
Pour the batter into 2 cake pans and bake in the pre-heated oven at 175˚C for 30-35 minutes or until skewer inserted comes out clean. Remove and leave cake to cool. Cut each cake horizontally into 2 pieces.
Boil all ingredients for teh tarik caramel until thicken, let cool.
For cream cheese frosting, melt the gelatin in a double boiler.
Beat cream cheese with the icing sugar, teh tarik syrup and hot gelatine till creamy.
Fold in whipped non-dairy whipping cream, mix till well incorporated.
Place 1 slice of cake onto a cake tray, spread a layer of teh tarik caramel, followed by a layer of cream cheese frosting.
Repeat till 4th layer of cake, then cover the cake with cream cheese frosting and refrigerate.
Drizzle top of the cake with the tea caramel & decorate. Serve chilled.
PLEASE RATE THIS RECIPE
How did this recipe go?
PLEASE RATE THIS RECIPE
How did this recipe go?
More delicious ideas for you
Follow Us
Follow Dr. Oetker Malaysia