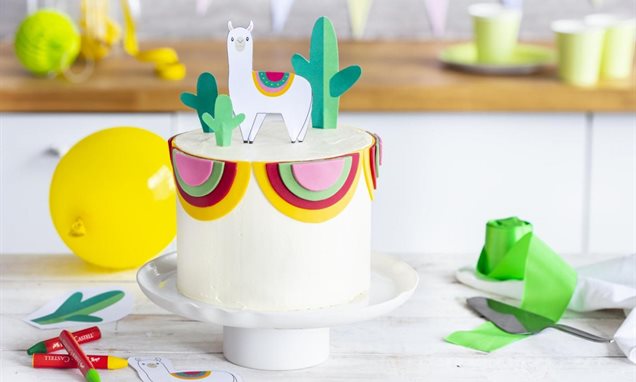 Llama Cake
Llama Cakes for your kids birthday? Sure do!
Recipe Ingredients
How to Prepare
How to Prepare:
Preheat oven to 180°C. Line a 2x7 inch round cake pans with grease proof paper.
Place Dr. Oetker Nona Sponge Cake Vanilla, eggs and water in a mixing bowl. Mix at high speed for 6 minutes.
Add in butter and mix at low speed for 1 minute or until batter is light and fluffy. Divide the batter into 2 cake pans and bake at 180°C for 30 minutes.
Turn the cake out onto a wire rack, set aside until the cake completely cool. Slice the cake into half (horizontally) using a long-serrated knife.
Beat the whipping cream at high speed until stiff peaks form.
Place half of a cake on a serving plate. Spread a layer of whipped cream, lay another half of cake on top. Repeat till 4th layer of cake, cover the top and sides of the cake with whipped cream and set the cake aside to cool for at least 1 hour.
For decoration, divide the fondant into four portions and colour heavily as desired. You can use, for example, yellow and orange, pink or green Roll out each portion into 2 mm sheets and cut into circles using a cutter. Place the fondant circles on top of each other and attach using a little water, with each new circle getting smaller. Now cut the circles in half using a knife and place around the edges on top of the cake. Craft a llama and cacti, place onto the cake and serve.
PLEASE RATE THIS RECIPE
How did this recipe go?
PLEASE RATE THIS RECIPE
How did this recipe go?
More delicious ideas for you
Follow Us
Follow Dr. Oetker Malaysia