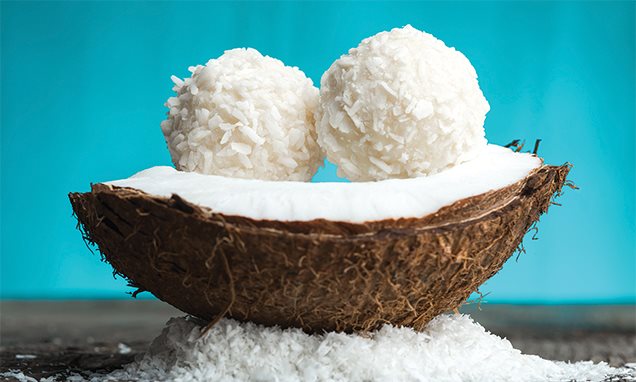 Coconut Cake Pops
A cheeky little twist to choco pops, with a vanilla sponge cake centre, and a mouthwatering white chocolate coating dusted in coconut.
Recipe Ingredients
How to Prepare
Recipe Ingredients
For Decoration
100 g
Dried Shredded Coconut
How to Prepare:
Preheat oven to 180˚C. Line a 24cm round cake pan with grease proof paper.
Place Dr. Oetker Nona Sponge Cake Vanilla, eggs and water in a mixing bowl. Mix at medium speed for 6 minutes. Add in butter and mix at low speed for 1 minute or until batter is light and fluffy.
Pour the mixture into the cake pan and Bake at 180˚C for 45 minutes. Set aside to cool.
Mash moist cake in a large bowl. Mix in evaporated milk until a dough forms.
Scoop and form into one inch balls. Chill for 30 minutes.
Melt white cooking chocolate with microwave or "double-boil".
Coat the cake pops with melted white cooking chocolate.
Decorate with dried shredded coconut before the coating is set.
PLEASE RATE THIS RECIPE
How did this recipe go?
PLEASE RATE THIS RECIPE
How did this recipe go?
More delicious ideas for you
Follow Us
Follow Dr. Oetker Malaysia