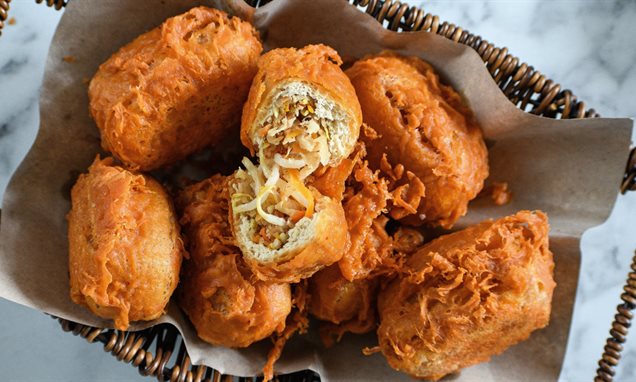 Tauhu Jeletot
Crispy bite-sized treats for a tasty afternoon snack or best serve as a side dish with rice! *Recipe created by Kuali Helena*
Recipe Ingredients
How to Prepare
Recipe Ingredients
For the Tofu
180 g
Tofu Pok (15 pieces)
Untuk Tauhu
180 g
Tauhu poh (15 ketul)
How to Prepare:
In a blender, add red chilli, garlic, shallots and Thai chili. Blend well.

Kisarkan cili besar, bawang putih, bawang merah dan cili api sehingga halus.
In a pan, sauté the blended paste until fragrant.

Tumiskan bahan kisar ke dalam kuali sehingga wangi.
Season the mixture with sugar, salt and seasoning to taste.

Perasakan dengan gula, garam dan penyedap rasa secukupnya.
Add in bean sprouts, carrots, cabbage, spring onion and mix well. Saute the mixture until half cooked and set aside.

Masukkan semua campuran sayur ke dalam kuali, kacau sebati kemudian masak sekejap dan letakkan di tepi.
Cut a slit to make a hole in the tofu and stuffed it with the cooked vegie mixture.

Guntingkan tepi tauhu poh sedikit dan masukkan inti ke dalam tauhu poh.
In a bowl, add in 1 box of Dr. Oetker Nona Fried Chicken Flour and 180ml water, then stir until well combined.

Bancuhkan Tepung Ayam Goreng Pedas Dr. Oetker Nona dengan 180ml air dan kacau sehingga sebati.
Coat the tofu evenly with the fried chicken batter and fry until golden brown.

Celupkan tauhu tersebut dan salut dengan rata. Goreng ke dalam minyak yang panas sehingga warna bertukar kuning keemasan.


Video Recipe by Kuali Helena:
Tauhu Jeletot
PLEASE RATE THIS RECIPE
How did this recipe go?
PLEASE RATE THIS RECIPE
How did this recipe go?
More delicious ideas for you
Follow Us
Follow Dr. Oetker Malaysia