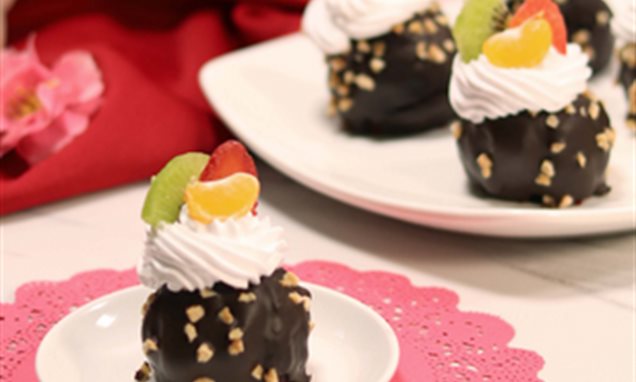 Red Velvet Cheese Ball 红丝绒芝士球
Luscious red velvet cheese balls that could be a fantastic gift during Chinese New Year season or any time of the year.
Recipe Ingredients
How to Prepare
How to Prepare:
Preheat oven to 180°C. Grease a 20cm round cake pan and line with baking paper.
Place a box of Dr. Oetker Nona Signature Moist Cake mix, water, oil and eggs in a mixing bowl. Mix at high speed for 3 minutes until well combined. Pour the batter into cake pan.
Bake at 180°C for 55 minutes. Set aside to cool.
Beat softened butter with cream cheese until smooth in the mixing bowl. Mash moist cake in a large bowl and mix with cream cheese until a dough formed.
Scoop and form into one small balls (approx. 50g). Chill for 30 minutes.
Melt cooking chocolate with microwave or "double-boil". Coat the cake pops with melted cooking chocolate and sprinkles with almond nibs before coating is set.
Beat the whipping cream at high speed until stiff peak formed. Pipe the whipped cream onto of the cake and decorate with your desired fruits.
PLEASE RATE THIS RECIPE
How did this recipe go?
PLEASE RATE THIS RECIPE
How did this recipe go?
More delicious ideas for you
Follow Us
Follow Dr. Oetker Malaysia