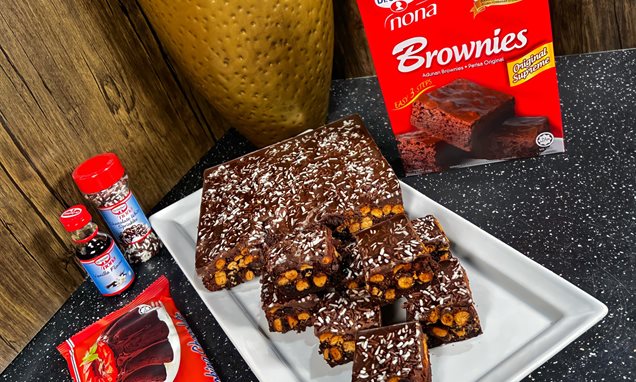 Polka Dot Brownies
With layers of rich chocolaty brownies and lady fingers, this recipe is wonderfully flavoured and fun as well! *Recipe Created by AdikFoods*
Recipe Ingredients
How to Prepare
Recipe Ingredients
For Brownies
200 g
Lady Finger Biscuits
Buy the Products
How to Prepare:
Preheat oven to 180°C.

Panaskan ketuhar pada suhu 180°C.
Place Dr. Oetker Nona Brownies Original, vegetable oil, water, eggs and vanilla flavour in a large bowl. Stir the mixture until well combined.

Satukan adunan Brownies Dr. Oetker Nona, minyak masak, air, telur dan perisa vanila di dalam mangkuk adunan dan aduk rata.
Spread 1 cup of brownies batter evenly in a greased rectangular baking tray (Free in pack). Lay the ladyfingers upside down on top of batter, and push down slightly. Repeat for the rest of batter and biscuits.

Tuangkan 1 cawan bancuhan adunan brownies ke dalam dulang pembakar yang disapukan minyak, kemudian ratakan. Susun biskut jejari secara selari. Ulang proses ini sehingga bancuhan adunan brownies habis.
Bake at 180°C for 55 minutes.

Bakar brownies pada suhu 180°C selama 55 minit.
Melt Dr. Oetker Nona Cooking Chocolate in a microwave oven for 1.5 minutes and pour the chocolate sauce over the top of baked brownies.

Cairkan Coklat Masakan Dr. Oetker Nona selama 1.5 min di dalam microwave dan tuangkan ke atas brownies.
Decorate the brownies with Dr. Oetker Nona Chocolate White Sprinkles and set aside to cool before cutting it.

Taburkan Gula Urai Coklat Putih Dr. Oetker Nona dan biarkan sejuk sebelum dipotong.
Video recipes: Click here
PLEASE RATE THIS RECIPE
How did this recipe go?
PLEASE RATE THIS RECIPE
How did this recipe go?
More delicious ideas for you
Follow Us
Follow Dr. Oetker Malaysia