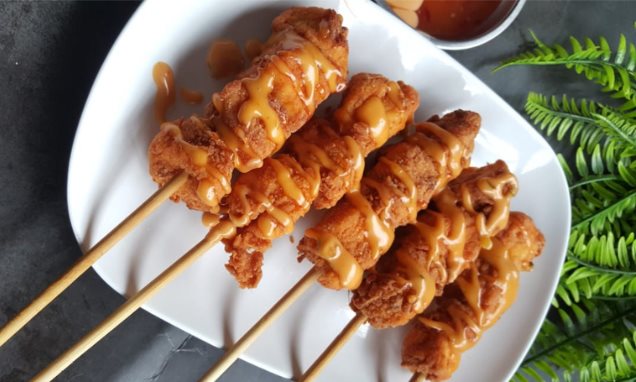 Crispy Chicken Satay
Crispy chicken satay that young and adults will definitely enjoy it! *Recipe created by Lynn Mikael*
Recipe Ingredients
How to Prepare
Recipe Ingredients
For Crispy Chicken Satay
200 g
Chicken (chopped into cubes)
1 tbsp
Coriander (Grinded)
1 tbsp
Fennel Seeds (Grinded)
Cheese Sauce (Any desired sauce)
Untuk Sate Ayam Crispy
200 g
Isi Ayam (Dipotong Kiub)
1 sudu besar
Biji Ketumbar (Dikisar)
1 sudu besar
Jintan Manis (Dikisar)
Gula Perang (secukup rasa)
How to Prepare:
In a bowl, place in chicken meat, lemongrass, coriander, and funnel seeds.

Masukkan ayam, serai, ketumbar dan jintan manis ke dalam mangkuk.
Then, add in 3-4 tbsp Dr. Oetker Nona Fried Chicken Flour & Spicy, pour in a little water and stir well. Marinate the chicken for 1 hour.

Masukkan 3-4 tbsp Tepung Ayam Goreng Pedas Dr. Oetker Nona dan tambahkan sedikit air, kemudian gaul sebati. Perapkan ayam selama 1 jam.
In a separate bowl, place in fried chicken flour and coat the marinated chicken with flour.

Dalam mangkuk yang berasingan, masukkan tepung ayam goreng pedas Dr. Oetker Nona dan masukkan ayam yang diperap tadi Salut ayam dengan tepung tersebut.
Thread the marinated chicken pieces (3-4 pcs) onto skewers.

Cucukkan 3-4 ketul ayam ke dalam lidi.
In a saucepan, heat the cooking oil, then fried the chicken until they turn golden brown.

Panaskan minyak di dalam periuk dan gorengkan isi ayam hingga warna bertukar kuning keemasan.
Drain excessive oil and drizzle with cheese sauce.

Angkat dan toskan minyak. Hidangkan dengan sos keju.


Video Recipe: Crispy Chicken Satay
PLEASE RATE THIS RECIPE
How did this recipe go?
PLEASE RATE THIS RECIPE
How did this recipe go?
More delicious ideas for you
Follow Us
Follow Dr. Oetker Malaysia