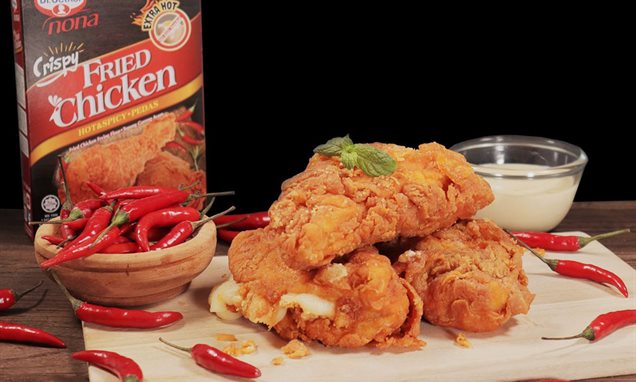 Spicy Cheesy Fried Chicken
The perfect fried chicken with a deliciously crispy and spicy coating, stuffed with savoury melting mozzarella cheese and pair perfectly with creamy sauce.
Recipe Ingredients
How to Prepare
Recipe Ingredients
For Chicken
3 slices
Chicken Breasts (Boneless & Skinless)
90 g
Mozzarella Cheese (30g for each chicken breast)
Untuk Ayam Goreng
90 g
Keju Mozarella (30g untuk setiap dada ayam)
Buy the Products
How to Prepare:
Clean and drain excess water of chicken breast.

Bersihkan dada ayam dan keringkan air.
Slice horizontally through the chicken breast almost to the end, being careful not to cut all the way through. Then, open out the sliced chicken breast.

Hiriskan dada ayam melalui bahagian tengah, tetapi jangan sampai terputus.
Place mozzarella cheese on one side of chicken breast. Fold the chicken over to enclose the filling.

Letakkan keju mozarella ke dalam ruang hirisan dan tutup dada ayam tersebut.
Mix 50g Dr. Oetker Nona Fried Chicken Flour Hot & Spicy with 60ml water, stir well and coat the chicken breast with fried chicken batter.

Letakkan 50g Tepung Ayam Goreng Pedas Dr. Oetker Nona ke dalam mangkuk. Tambahkan 60ml air, kacau sebati dan salutkan dengan dada ayam.
In another bowl, pour in the remaining Fried Chicken Flour. Coat the chicken breast with flour.

Di dalam mangkuk berlainan, letakkan lebihan Tepung Ayam Goreng Pedas Dr. Oetker Nona dan salutkan dada ayam tersebut.
Preheat cooking oil to 180˚C in a wok and fry the chicken until golden brown.

Panaskan minyak masak di dalam kuali. Gorengkan dada ayam tersebut sehingga warna bertukar kuning keemasan.
For the sauce, melt butter in a pan at low heat. Add in Dr. Oetker Nona Plain Flour, stir well.

Untuk bahagian sos, cairkan mentega tanpa garam di dalam kuali. Tambahkan Tepung Biasa Dr. Oetker Nona, kacau sehingga sebati.
Slowly pour in full cream milk in stages and keep stirring.

Tuangkan susu penuh krim secara berperingkat dan kacau secara berterusan.
Then, season the sauce with salt and pepper. Let the mixture boil on low to medium heat until it turns thicker and creamier. Pour the sauce over the deep-fried chicken and serve it.

Tambahkan garam dan lada putih. Masak sos tersebut sehingga kelihatan hampir pekat. Tuangkan sos ke atas ayam goreng dan hidangkan.
PLEASE RATE THIS RECIPE
How did this recipe go?
PLEASE RATE THIS RECIPE
How did this recipe go?
More delicious ideas for you
Follow Us
Follow Dr. Oetker Malaysia