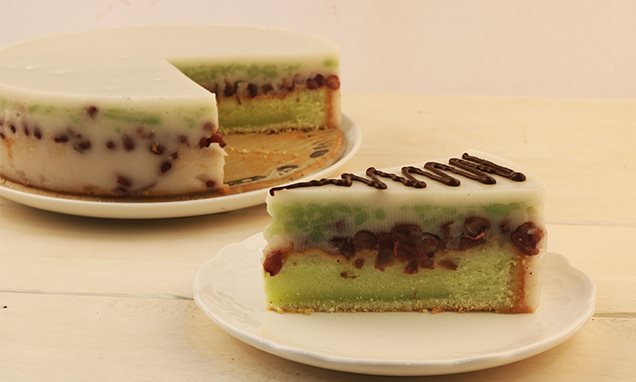 Cendol Cake
Try this delicious and moist cake
Recipe Ingredients
How to Prepare
Recipe Ingredients
Gula Melaka Syrup
2
Pandan Leaves (Knotted)
50 g
Palm Sugar Melaka (Gula Melaka)
How to Prepare:
For Moist Cake Pandan
Preheat oven to 180°C. Place Dr. Oetker Nona Moist Cake Mix, water and eggs in a mixing bowl. Mix at high speed for 3 minutes. Add in vegetable oil and mix at low speed for 1 minute or until batter is light and fluffy. Pour batter in a greased 20cm round baking pan. Bake at 180°C for 45 minutes. Set aside to cool.
For Gula Melaka Syrup
Bring water to boil. Place palm sugar, water, corn starch and pandan leaves in a medium saucepan, cook over low heat until palm sugar well dissolved.
For Cendol Agar-Agar
Bring coconut milk and water to boil. Pour Dr. Oetker Nona Agar-agar Original into boiling coconut milk gradually while stirring. Continue stirring and leave to boil for 2-3 minutes then remove from heat. Divide agar-agar mixture into 2 bowls, add red beans into one bowl and cendol into another bowl. Gently pour red bean agar-agar mixture over the cake, let it set slightly. Gently pour cendol agar-agar mixture over and spread evenly. Keep in refrigerator for 3 hours or until set before serving.
PLEASE RATE THIS RECIPE
How did this recipe go?
PLEASE RATE THIS RECIPE
How did this recipe go?
More delicious ideas for you
Follow Us
Follow Dr. Oetker Malaysia