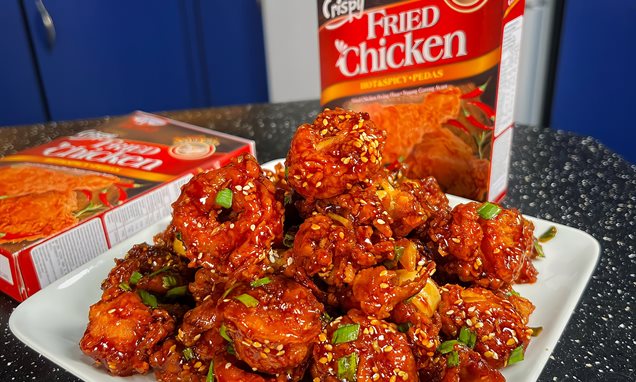 Spicy Gochujang Deep-Fried Squid
A spicy deep-fried squid, flavoured with Dr. Oetker Nona Fried Chicken Flour and the rich taste from Gochujang Sauce. *Recipe created by Afiq Rahim
Recipe Ingredients
How to Prepare
Recipe Ingredients
Untuk Bahagian Sos
2 tbsp
Bawang Putih (Dikisar)
How to Prepare:
Cut the cleaned squids and marinate with lemon juice. In the meantime, heat the cooking oil in a saucepan.

Bersihkan sotong dan toskan air. Perapkan sotong dengan jus limu. Pada masa yang sama, panaskan minyak masak dalam kuali.
Place 50g Dr. Oetker Nona Fried Chicken Flour in a bowl and pour in 60ml water. Stir well.

Gaulkan 50g Tepung Ayam Goreng Dr. Oetker Nona ddengan 60ml air sehingga sebati.
In a separate bowl, put in the remaining fried chicke flour. Coat the squid with fried chicken batter, then coat again with the remaining fried chicken flour.

Masukkan tepung ayam goreng yang selebihnya ke dalam mangkuk yang berasingan. Celup sotong dengan adunan tepung ayam goreng, kemudian salutkan lagi dengan tepung ayam goreng.
Deep-fried the coated squid until they turn into golden brown. Set aside.

Masukkan sotong ke dalam kuali dan goreng sehingga warna kuning keemasan. Angkat dan toskan minyak.
For the sauce, combine honey, brown sugar, gochujang sauce, sesame oil, tomato sauce, soy sauce and minced garlic in a frying pan. Mix well and cook until the sauce mixture is thicken.

Untuk bahagian sos, masukkan madu, gula perang, sos gochujang, minyak bijian, sos tomato, kicap dan bawang putih kisar dalam kuali. Masak sehingga kuah menjadi pekat.
Turn off the heat and pour in deep-fried squid, Stir well, top with sesame seed and spring onion.

Padamkan api dan masukkan sotong yang digoreng tadi. Gaul rata dan taburkan minyak bijian serta bawang putih.
Video Recipe: Spicy Gochujang Deep-Fried Squid
PLEASE RATE THIS RECIPE
How did this recipe go?
PLEASE RATE THIS RECIPE
How did this recipe go?
More delicious ideas for you
Follow Us
Follow Dr. Oetker Malaysia