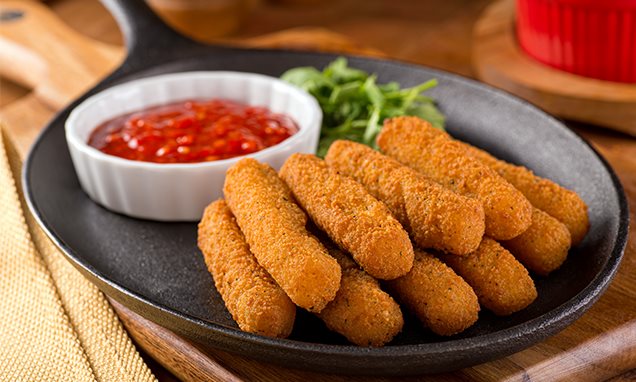 Mozzarella Cheese Sticks
Look forward to a new trend of finger food that has a crunchy coating, and a melted pulling cheese effect.
Recipe Ingredients
How to Prepare
Recipe Ingredients
For Cheese Sticks
12
Mozzarella Cheese Sticks
Buy the Products
How to Prepare:
Trim edges of the bread and flatten the bread until very thin with a rolling pin. Place 1 cheese stick at one edge of the bread slice, roll it to enclose filling.
Place eggs and milk in a bowl, whisk until well combined. Dab egg mixture on seams and press lightly to seal completely. Repeat with remaining bread slices.
Place Dr. Oetker Nona Breadcrumbs in a shallow dish. Dip cheese rolls in egg mixture and roll in breadcrumbs, patting down crumbs to fully coat.
Heat oil in a pan over medium heat. Place prepared cheese rolls seam side down and fry until golden, turning on the other side as needed. Remove from pan and drain on a wire rack set over a baking sheet. Serve hot.
PLEASE RATE THIS RECIPE
How did this recipe go?
PLEASE RATE THIS RECIPE
How did this recipe go?
More delicious ideas for you
Follow Us
Follow Dr. Oetker Malaysia