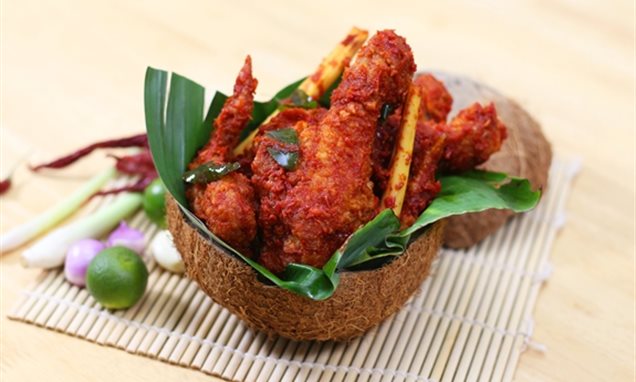 Sambal Chicken
Sambal Chicken is a Malaysian all time favourite dish
Recipe Ingredients
How to Prepare
Recipe Ingredients
Untuk Ayam
1 sudu besar
Kicap Pekat Hitam
How to Prepare:
Clean and drain excess water of chicken wings & drumettes.

Bersihkan ayam dan keringkan air.
Place dried chilli, small onions, garlic and ginger in the blender, pour enough water to cover the ingredients. Blend until paste formed.

Masukkan cili kering, bawang merah, bawang putih, halia dan air secukupnya ke dalam pengisar, kisar sehingga halus.
Preheat cooking oil to 180˚C in a wok.

Panaskan minyak masak di dalam kuali.
Coat Dr. Oetker Nona Kentucky Original flour and fry until golden brown. Remove chicken and set aside.

Salutkan ayam dengan Tepung Goreng Kentucky Dr. Oetker Nona dan goreng sehingga warna kuning keemasan.
Heat up the 2 tablespoon of oil in a pan, add in lemongrass and curry leaves, fry over medium heat until fragrant.

Panaskan 2 sudu besar minyak masak di dalam kuali. Masukkan serai dan daun kari, tumis hingga wangi.
Add in sambal paste and saute until fragrant and the paste thickens.

Masukkan cili kisar dan tumis hingga pekat dan pecah minyak pada api sederhana.
Pour in lime juice and let the paste simmers. Add in sugar, dark soy sauce, salt and peppers to taste.

Tambahkan jus limau dan biarkan mendidih. Masukkan gula, kicap pekat, garam dan serbuk lada secukupnya.
Coat the fried chicken with sambal paste.

Masukkan ayam goreng dan gaul sehingga rata.
PLEASE RATE THIS RECIPE
How did this recipe go?
PLEASE RATE THIS RECIPE
How did this recipe go?
More delicious ideas for you
Follow Us
Follow Dr. Oetker Malaysia