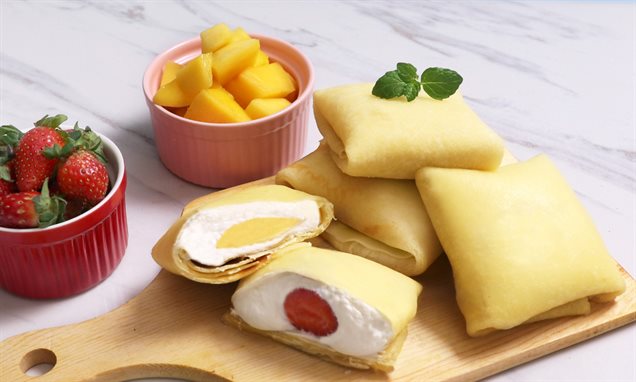 Tasty Crepe Dessert
Turn your pancake premix into crepe premix! Stuff your crepe with lightly sweetened whipped cream and your favourite fruits.
Recipe Ingredients
How to Prepare
Recipe Ingredients
For Crepe
200 ml
Whipping Cream (Room Temperature)
Buy the Products
How to Prepare:
For Crepe
Preheat a pan. Apply oil onto the plate, if needed.

Panaskan kuali leper. Oleskan sedikit minyak jika perlu.
Mix 400g Dr. Oetker Nona Pancake Original Premix with 30ml vegetable oil, 500ml water and 1 egg.

Campur 400g Adunan Penkek Dr. Oetker Nona dengan 30ml minyak sayuran, 500ml air dan 1 telur.
Pour 1 scoop of batter onto the pan and slowly move the pan in a circular motion to spread the batter evenly. Cook until the edges begin to dry. Flip it over and cook for another 10 seconds.

Tuangkan 1 senduk adunan ke dalam kuali dan perlahan-lahan gerakkan kuali dalam gerakan berbentuk bulat untuk meratakan adunan ke seluruh permukaan kuali. Masak sehingga bahagian tepi krep mula mengering. Terbalikkan krep dan masak lagi selama 10 minit.
Note: 1 box Dr. Oetker Nona Pancake Original premix (400g) makes 16 crepes (23cm per pcs).
For Filling
Beat whipping cream with sugar at medium-low speed until stiff peaks form.

Pukul krim putar dan gula pada kelajuan sederhana-rendah, pukul sehingga menjadi halus dan kembang.
Slice the chosen fruits into chunks.

Potong buah yang dipilih sehingga menjadi bentuk kecil.
Pipe cream filling onto center part on crepe. Add one slice of fruit on the cream and pipe again the cream filling to cover the fruit slice.

Letakkan krim di bahagian tengah krep, dan potongan buah-buahan di atas krim. Kemudian, letak sedikit krim lagi untuk menutup bahagian buah-buahan.
Wrap and shape the crepe into square pillow shape.

Lipat kulit krep sehingga menjadi bentuk segi empat.
PLEASE RATE THIS RECIPE
How did this recipe go?
PLEASE RATE THIS RECIPE
How did this recipe go?
More delicious ideas for you
Follow Us
Follow Dr. Oetker Malaysia