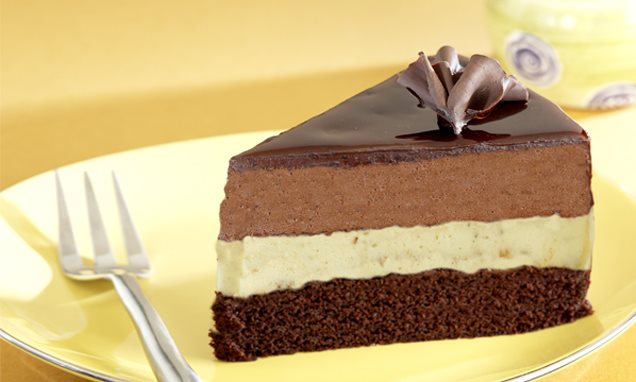 Chocolate Brulee Cake
A delicious chocolate indulgence
Recipe Ingredients
How to Prepare
Recipe Ingredients
For the Chocolate Mousse
2 tbsp
Dr. Oetker Nona Cocoa Powder
For the Chocolate Ganache
How to Prepare:
For moist cake
Place Dr. Oetker Nona Moist Cake, water and eggs in a mixing bowl. Mix at high speed for 3 minutes. Add in vegetable oil and mix at low speed for 1 minute or until batter is light and fluffy. Pour batter in a greased 20 cm round baking pan. Bake with steam-bath at 160 C for 30 minutes.
For cream brulee
Cook the whipping cream, condensed milk and cream cheese in a bowl, set aside. In a separate bowl, beat the egg yolk and slowly pour in the mixture while mixing. Pour the cream brulee over the top of the cake and bake in steam-bath for another 30 minutes. Set aside to cool.
For chocolate mousse
Mix Dr. Oetker Nona Cocoa Powder, coffee emulco and whipping cream at high speed until stiff peak forms. Spread chocolate mousse over the top of the cake.
For chocolate ganache
Melt Dr. Oetker Nona Cooking Chocolate in a bowl with double-boil and stir in the whipping cream until well combined. Slowly pour the chocolate ganache over the top and sides of the cake.
Keep in refrigerator for 1 hour or until set before serving.
PLEASE RATE THIS RECIPE
How did this recipe go?
PLEASE RATE THIS RECIPE
How did this recipe go?
More delicious ideas for you
Follow Us
Follow Dr. Oetker Malaysia