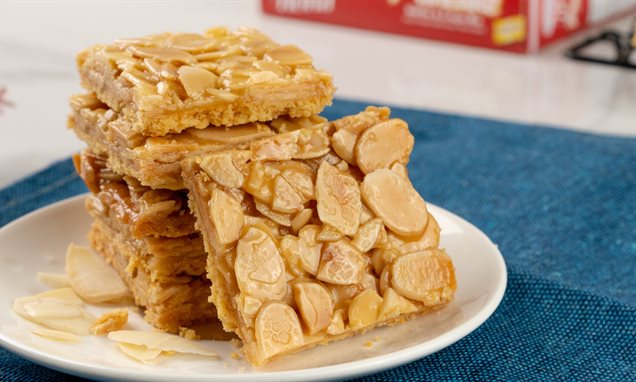 Salted Caramel Almond Pancake Cookies
Buttery cookies taste made from pancake mix, top with salty-sweet caramel sauce and almond slices. Perfect for any occasion!
Recipe Ingredients
How to Prepare
Recipe Ingredients
For Pancake Cookies
75 g
Unsalted Butter (Room Temperature)
For Toppings
200 g
Almond Flakes (Baked)
Buy the Products
How to Prepare:
In a mixing bowl, place in 1/2 box (200g) Dr. Oetker Nona Pancake Mix, 1 egg and 75g unsalted butter.
Use fingertips to rub and mix the mixture until a well-combined dough is formed. Chill the dough in fridge for at least 30mins.

Tips: Freeze your cookie dough to shorten the time for a firm dough texture
On a parchment paper, roll the dough into ball shape and flatten it with rolling pin. Then, use a fork to poke holes all over the dough.
Transfer the flatten cookies dough (together with parchment paper) into baking pan and bake for 10 minutes, or until lightly golden.
For Caramel Sauce
In a medium saucepan, combine 60g unsalted butter, 60g sugar, 60g honey and 60g whipping cream. Stir over low-medium heat until sugar and other ingredients are well dissolve. Simmer for 3-5 minutes, or until mixture is golden and thick.
Turn off the heat, add in baked almond flakes and stir to combine.

Tips: Amount of almond flakes depends on personal preference
Spread almond mixture evenly over cookies base by using a spatula. Bake for another 10 minutes, or until topping is golden brown. Cool in pan for 5 minutes and cut into squares while still warm.
PLEASE RATE THIS RECIPE
How did this recipe go?
PLEASE RATE THIS RECIPE
How did this recipe go?
More delicious ideas for you
Follow Us
Follow Dr. Oetker Malaysia