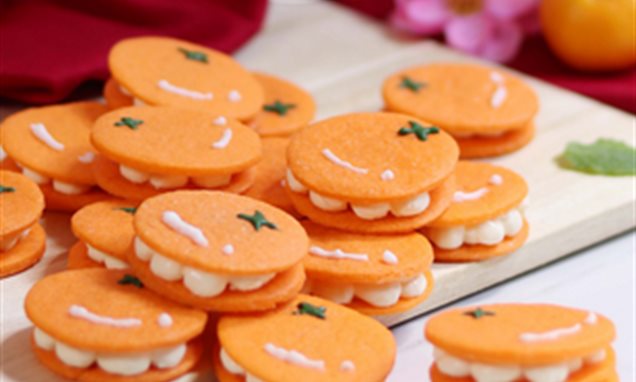 Mandarin Orange Cheese Cookies 橘子乳酪饼干
Make this adorable Mandarin Orange Cheese Cookies for your family and friends when they visit your house for the coming Chinese New Year!
Recipe Ingredients
How to Prepare
Recipe Ingredients
For Decorations
Royal Icing (White & Green)
Buy the Products
How to Prepare:
Place a box of Dr. Oetker Nona Sponge Cake Vanilla and butter in a mixing bowl. Use fingertips to rub butter into flour until it resembles fine bread crumbs.
Add in egg and mix until well combined. Mix the dough with orange colour.
Transfer the dough onto a baking paper, roll the dough 0.3cm thickness. Refrigerate for 30 minutes or until a firm texture is formed.
Cut the dough into flower shapes with round cookies cutter. Place it on a lined baking tray and bake at 160°C for 10-15 minutes.
For filling, beat the cream cheese and whipping cream at high speed until stiff peak. Pipe the cream cheese and orange jam over one cookie, cover with another cookie and press together to make a sandwich.
Draw the mandarin orange pattern with white and green royal icing, let it set before serving.
PLEASE RATE THIS RECIPE
How did this recipe go?
PLEASE RATE THIS RECIPE
How did this recipe go?
More delicious ideas for you
Follow Us
Follow Dr. Oetker Malaysia