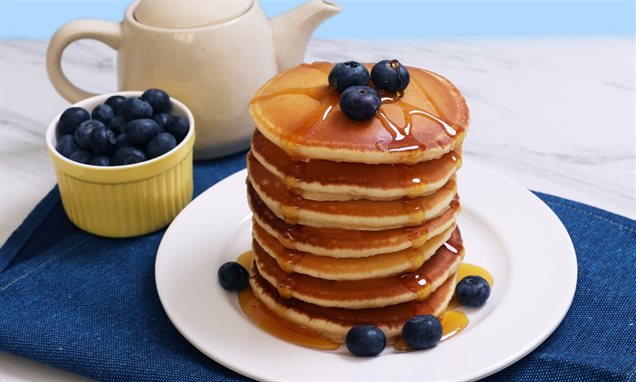 Classic Pancake
Flip and stack your pancakes !
Recipe Ingredients
How to Prepare
Recipe Ingredients
For Pancake
Honey (Any Desired Sauce)
Toppings (Any Desired Fruits)
Buy the Products
How to Prepare:
Preheat a pan. Pan is ready when drops of water sizzle and disappear.

Panaskan kuali leper. Kuali sedia diguna apabila titisan air mendesis dan hilang.
Mix 400g Dr. Oetker Nona Pancake Original Premix with 30ml vegetable oil, 300ml water and 1 egg.

Campur 400g Adunan Penkek Dr. Oetker Nona dengan 30ml minyak sayuran, 300ml air dan 1 telur.
Pour batter onto the pan and cook for 1.5 mins. Flip the pancake gently when bubbles form at the top and begin to pop. Cook the other side for 1.5 mins or until golden.

Tuangkan adunan ke dalam kuali. Masak selama 1.5 minit. Terbalikkan adunan perlahan-lahan, apabila gelembung mula terbentuk pada permukaan penkek. Masak bahagian terbalik selama 1.5 minit atau sehingga warna kuning keemasan.
Drizzle honey or any desired sauce on your pancakes and top them with your choice of fruits!

Tuang madu atas penkek dan hiaskan penkek dengan buah-buahan kesukaan anda!
Note: 1 box Dr. Oetker Nona Pancake Original premix (400g) makes 20 pancakes (8cm per pcs).

Video Recipe
PLEASE RATE THIS RECIPE
How did this recipe go?
PLEASE RATE THIS RECIPE
How did this recipe go?
More delicious ideas for you
Follow Us
Follow Dr. Oetker Malaysia