Snow Skin Mooncake
Celebrate Mid-Autumn Festival with this delicate treat - snow skin mooncakes.
Recipe Ingredients
How to Prepare
For Snow Skin
40 g
Glutinous Rice Flour
For Coating
40 g
Glutinous Rice Flour (Baked)
For Snow Skin
Place glutinous rice flour in a baking tray. Bake at 180°C for 1 hour until the flour become very light. Let it cool completely.
Bring water to boil in a steamer.
Place all the ingredients for snow skin in a mixing bowl. Mix well.
Pour the batter in a plate, cover with plastic wrapper and steam for 20 minutes.
Scrape the hardened dough off to another plate, cover and set aside to cool.
Add you favourite colour into the dough and mix well. Divide the dough into 9 balls.
For Filling
Place egg yolks, icing sugar and milk in a small sauce pan. Place egg mixture over boiling water, add in corn starch and cook at low heat.
Add in butter and continue stiring until the thick paste forms, remove from heat. Add in cream cheese, mix until well combined. Roll the filling into 9 balls.
To Make Mooncake
Coat dough balls with baked glutinous rice flour. Flatten the dough, place a filling in the middle of the dough and wrap it up.
Press the dough firmly into the jelly mould. Turn the mould over and give it a few taps to loosen the mooncake.
PLEASE RATE THIS RECIPE
How did this recipe go?
PLEASE RATE THIS RECIPE
How did this recipe go?
More delicious ideas for you
Pandan & Coconut Jelly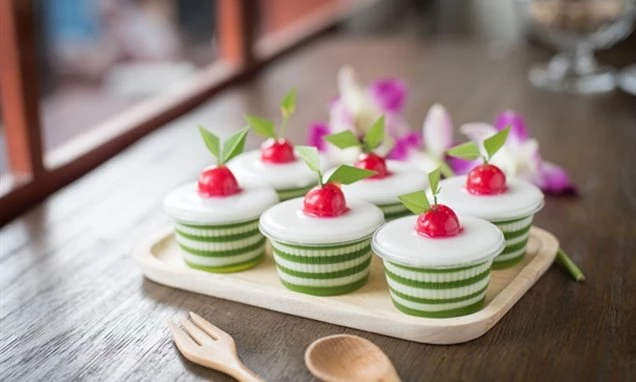 Follow Us
Follow Dr. Oetker Malaysia