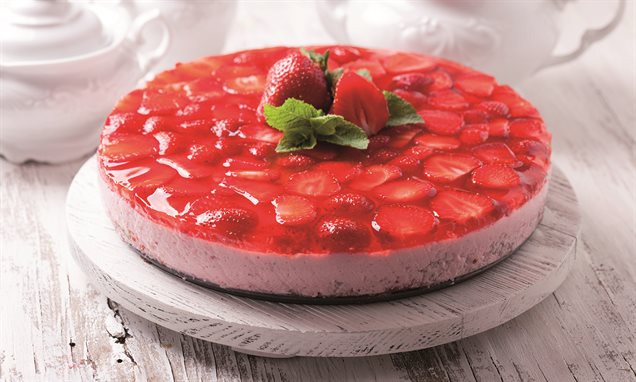 No Bake Strawberry Cheesecake
Bring a balance to your crunchy biscuit base and sweet creamy strawberry cheese, with a lovely layer of crystal jelly.
Recipe Ingredients
How to Prepare
Recipe Ingredients
For the Base
250 g
Cream Cheese (Softened)
For the Topping
400 g
Strawberries (hulled and halved lengthwise)
How to Prepare:
Put digestive biscuits in a large resealable plastic bag, and crush them with a rolling pin until very fine crumbs form.
Pour crumbs into a medium bowl. Add butter, and stir until well combined.
Press the crumb mixture into a 22cm spring-form pan, spreading it 1 1/2 to 2 inches up the side; press flat. Chill crust in freezer at least 10 minutes.
Beat the cream cheese in a large bowl with an electric mixer at medium-high speed, until smooth. Beat in sugar gradually and beat in vanilla flavour. Fold in whipped cream.
Pour the filling into the crust; smooth the top with a rubber spatula. Starting in the center, arrange the strawberries in a circular pattern. Cover with plastic wrap, and refrigerate until firm, 2.5 to 3 hours.
Bring water to boil. Pour and stir crystal jelly mix gradually. Continue stirring for 5 minutes or until bubbles disappear then remove from heat. Set aside to cool but not harden.
Gently spoon the crystal jelly mixture over the cheese cake. Keep in refrigerator for 3 hours or until set before serving.
PLEASE RATE THIS RECIPE
How did this recipe go?
PLEASE RATE THIS RECIPE
How did this recipe go?
More delicious ideas for you
Follow Us
Follow Dr. Oetker Malaysia