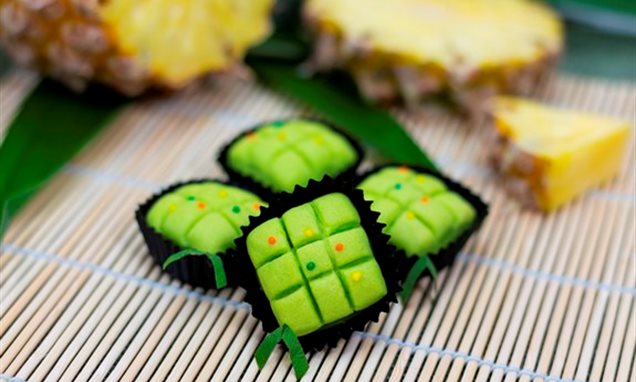 Ketupat Pineapple Tarts
These Ketupat Pineapple Tarts are the perfect snack
Recipe Ingredients
How to Prepare
Recipe Ingredients
For Ketupat Pineapple Tarts
Untuk Tat Nanas Ketupat
200 g
Mentega (dilembutkan)
Buy the Products
How to Prepare:
Preheat oven to 160˚C.

Panaskan ketuhar pada suhu 160˚C.
Place Dr. Oetker Nona Tarts, butter, and egg in a mixing bowl. Mix until dough form. Add pandan emulco and mix well.

Gaulkan adunan tat dengan mentega dan telur mengikuti aturcara pada kotak Adunan Tat Dr. Oetker Nona. Masukkan emulco pandan dan gaul sehingga sebati.
Roll the dough to 2.5cm ball (about 8g), flatten the dough-ball to 0.5cm thickness.

Ulikan doh sebesar 2.5cm (sebanyak 8g) dan leperkannya dengan tapak tangan. Letak bebola pes nanas di tengah-tengah doh dan balutkannya. Sumbatkan doh ke dalam acuan berbentuk segi empat sama, keluarkan dari acuan dan susun di atas dulang pembakar.
Roll pineapple paste to 1.5cm ball (about 5g). Place it in the middle of the dough, wrap it up and insert the dough into a square cookie cutter to form ketupat shape.

Ulikan pes nanas menjadi bebola sebesar 1.5cm (sebanyak 5g), biarkan tepi.
Remove dough from cookie cutter, using a small knife, make criss-cross patterns on the tart and decorate with hundreds & thousands.

Goreskan corak ketupat dengan pisau kecil dan hiaskan dengan gula manik pelangi.
Place tarts on lined baking tray and bake at 160˚C for 15 - 18 minutes.

Susunkan di atas dulang pembakar and bakar pada suhu 180°C selama 15-18 minit.
PLEASE RATE THIS RECIPE
How did this recipe go?
PLEASE RATE THIS RECIPE
How did this recipe go?
More delicious ideas for you
Follow Us
Follow Dr. Oetker Malaysia