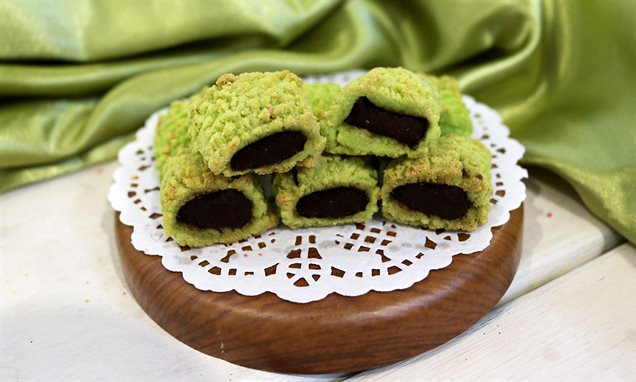 Green Chocolate Rolls
Delicious green chocolate snack
Recipe Ingredients
How to Prepare
Recipe Ingredients
Untuk Tat
200 g
Mentega (dilembutkan)
Buy the Products
How to Prepare:
Preheat oven to 180˚C.

Panaskan ketuhar pada suhu 180˚C.
Break each of the cooking chocolate into cubes. Cut a cooking chocolate into 1/4 small cubes, set aside.

Bahagikan coklat masakan ke 8 ketul. Potongkan coklat masakan ke 1/4 kiub, biarkan tepi.
Place Dr. Oetker Nona Tarts, butter and egg in a mixing bowl. Mix well.

Masukkan Adunan Tat Dr. Oetker Nona, mentega dan telur ke dalam mangkuk, gaul sebati.
Add a few drops of apple green colour to the dough.

Titiskan pewarna hijau epal kepada doh dan gaul sebati.
Put dough into a pastry press and press the dough out into strips of 5cm length.

Masukkan doh ke dalam acuan tat dan tekan doh dengan sepanjang 5cm.
Place a cooking chocolate cube at one end of dough and roll up the pastry.

Letak coklat masakan di satu hujung dan gulung doh untuk membalut coklat masakan.
Place in the baking tray and bake at 180˚C for 15 minutes.

Susun tat coklat di atas dulang pembakar beralas and bakar pada suhu 180˚C selama 15 minit.
PLEASE RATE THIS RECIPE
How did this recipe go?
PLEASE RATE THIS RECIPE
How did this recipe go?
More delicious ideas for you
Follow Us
Follow Dr. Oetker Malaysia