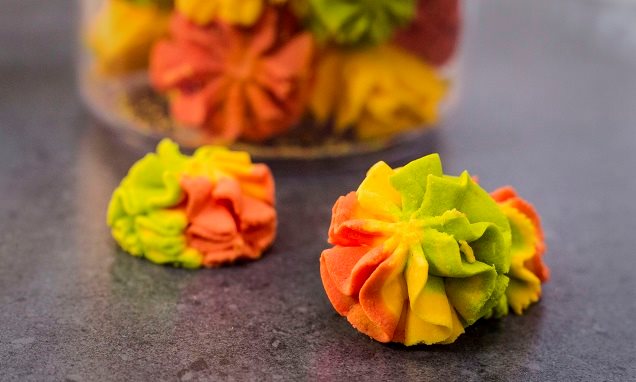 Dahlia Cookies (Biskut Dahlia)
Sweet and colourful Dahlia Cookies
Recipe Ingredients
How to Prepare
Recipe Ingredients
Untuk Biskut Dahlia Berwarna-warni
150 g
Mentega (dilembutkan)
Buy the Products
How to Prepare:
Preheat the oven to 170°C.

Panaskan ketuhar pada suhu 170˚C.
Combine butter, condensed milk and vanilla flavour, mix until creamy.

Putar mentega, susu pekat manis dan perisa vanila sehingga berkrim.
Add custard flour and stir until mixture forms a soft dough.

Masukkan tepung kastad dan kacau sehingga adunan menjadi doh yang lembut*.
Divide the dough into three parts. Add a drop of red colour to dough #1 and add a drop of green colour to dough #2.

Bahagikan doh kepada 3 bahagian, ketepikan satu bahagian dan gaulkan warna merah ros kepada satu bahagian dan warna hijau epal kepada satu bahagian yang lain.
Roll each dough into equal length logs, about 5cm long and 1cm thick.

Ulikan doh ketiga-tiga itu menjadi satu doh dengan sepanjang 5cm dan setebal 1cm.
Place the red dough log with green dough log side by side. Lay the original log on top of them. Gently roll together to make sure the 3 logs are pressed together.

Masukkan doh ke dalam acuan dan picitkan doh ke atas dulang yang dialas.
Use the piping tool (dahlia flower shape) to press out the dough onto lined baking tray.

Gunakan bunga dahlia acuan untuk paipkan bentuknya ata dulang pembakar.
Bake for 15-20 minutes at 170°C.

Bakar pada suhu 170 ˚C selama 15-20 minit.
PLEASE RATE THIS RECIPE
How did this recipe go?
PLEASE RATE THIS RECIPE
How did this recipe go?
More delicious ideas for you
Follow Us
Follow Dr. Oetker Malaysia