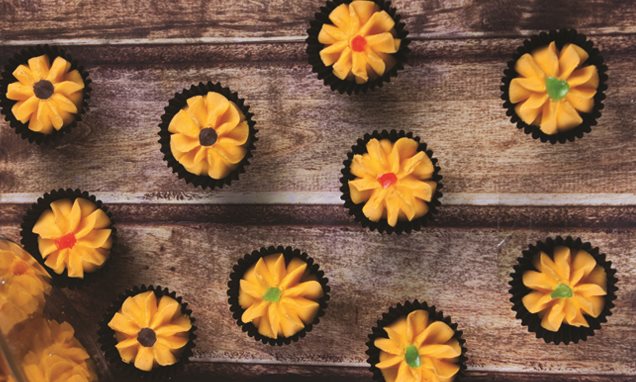 Custard Dahlia Cookies
Astonish the world with the perfect buttery cookies that melt away, finished with a tiny sticky cherry at the top.
Recipe Ingredients
How to Prepare
Recipe Ingredients
For Custard Dahlia Cookies
Untuk Biskut Dahlia
150 g
Mentega (dilembutkan)
Buy the Products
How to Prepare:
Preheat oven to 180˚C.

Panaskan ketuhar pada suhu 180˚C.
Combine butter, vanilla flavour and condensed milk until creamy.

Putar mentega dan susu pekat manis sehingga berkrim.
Add custard flour and stir until mixture forms a soft dough.

Masukkan tepung kastad dan kacau sehingga adunan menjadi doh yang lembut.
Remove dough from the mixing bowl and place it into a piping bag/nozzle (dahlia flower shape). Press out the dough onto lined baking tray.

Masukkan doh ke dalam beg paip dan muncung (bentuk bunga dahlia). Picitkan doh ke atas dulang yang dialas.
Decorate with cherry cubes.

Hiaskan dengan ceri.
Bake in a preheated oven for 20 - 25 minutes at 170˚C.

Bakar dalam ketuhar yang telah dipanaskan selama 20-25 minit pada suhu 170 ˚C.
PLEASE RATE THIS RECIPE
How did this recipe go?
PLEASE RATE THIS RECIPE
How did this recipe go?
More delicious ideas for you
Follow Us
Follow Dr. Oetker Malaysia