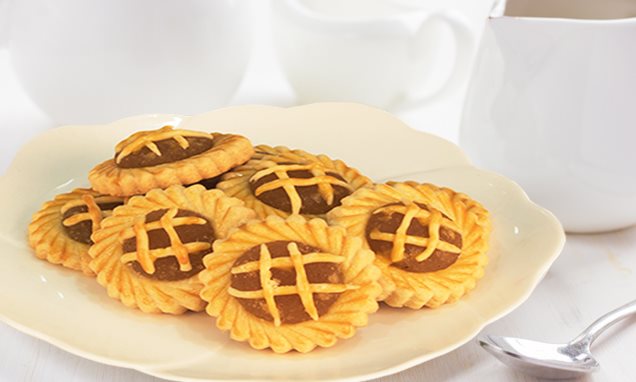 Classic Pineapple Tarts
It is called a classic for a reason. A butter based pastry and pinapple jam recipe that has remained timeless.
Recipe Ingredients
How to Prepare
Recipe Ingredients
Untuk Tat
200 g
Mentega (dilembutkan)
Buy the Products
How to Prepare:
Preheat oven to 180˚C.

Panaskan ketuhar pada suhu 180˚C.
Place Dr. Oetker Nona Tarts, butter and egg in a mixing bowl. Mix well.

Gentelkan pes nanas menjadi bebola. Biarkan tepi.
On a floured surface, roll the dough 0.5cm thickness.Cut the dough into shapes with cookie cutter.

Masukkan Adunan Tat Dr. Oetker Nona, mentega dan telur ke dalam mangkuk. Gaul sebati.
Place on a lined baking tray, flatten a little and then garnish with egg yolk.

Taburkan meja dengan tepung. Ulikan doh setebal 0.5cm dan terapkan doh dengan acuan biskut.
Roll Dr. Oetker Nona Pineapple Paste into balls, put them on every cut dough.

Susun tat nanas di atas dulang pembakar beralas, isikan pes nanas di tengah biskut dan sapukan kuning telur di atas permukaan tat.
Bake at 180˚C for 15-18 minutes or until golden brown.


Bakar pada suhu 180˚C selama 15-18 minit.


Video recipes: Classic Pineapple Tarts
PLEASE RATE THIS RECIPE
How did this recipe go?
PLEASE RATE THIS RECIPE
How did this recipe go?
More delicious ideas for you
Follow Us
Follow Dr. Oetker Malaysia