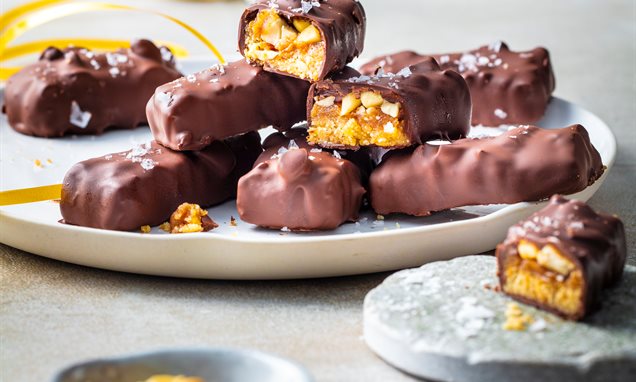 Caramel peanut bar
Tasty snack for in between: peanut bar with caramel
Crunchy chocolate, creamy caramel coupled with fine sea salt and the taste of roasted peanuts with sweet dates – pure bliss! This Caramel peanut bar is just perfect for when you fancy a treat – whether as a sweet ending to your evening meal or as a daytime snack. What's it got to do with Christma...
Recipe Ingredients
How to Prepare
Recipe Ingredients
For the Cream
200 g
Crunchy Peanut Butter
Buy the Products
How to Prepare:
Line a 20 x 20cm baking tray with greaseproof paper. Place the peanuts in a blender and finely grind. Add the dates and salt and combine to form a crumble mixture. Spread the mixture evenly in the baking tray, pressing down firmly. Leave to chill.
For the caramel cream, place the dates, milk, peanut butter, vanilla flavour and salt in a blender and mix to form a smooth paste. Spread the cream onto the base. Roughly chop the peanuts and roast them in a pan without oil on a medium heat. Spread on top of the cream and freeze for at least 3 hours.
Remove it from baking tray and cut into bars measuring 2 x 5 cm. Freeze again.
Melt cooking chocolate with microwave oven or "double-boil" Dip the bars into the cooking chocolate using a fork, and place on greaseproof paper. Sprinkle with sea salt and leave to set. Keep in the fridge.
Tip
For a bit of variety, you can add different nuts to the peanuts, like walnuts or almonds.
PLEASE RATE THIS RECIPE
How did this recipe go?
PLEASE RATE THIS RECIPE
How did this recipe go?
More delicious ideas for you
Follow Us
Follow Dr. Oetker Malaysia