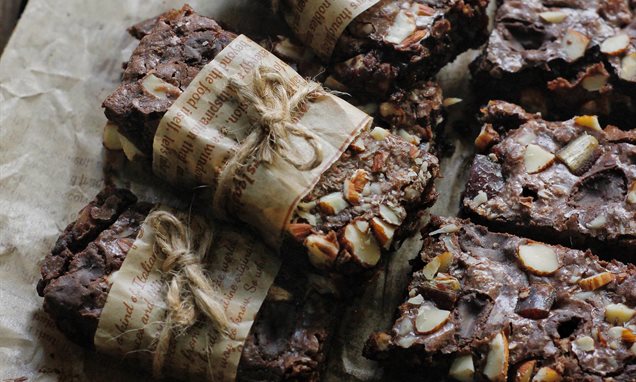 Brownies Oat Bar
A sweet, chewy oat bar that packed with nutritious ingredients & chocolatey goodness in every bite! *Recipe Created by The Sisters Cooking Project*
Recipe Ingredients
How to Prepare
Recipe Ingredients
For Brownies Oat Bar
¼ cup
Pitted Dates (roughly chopped)
¼ cup
Almonds (roughly chopped)
Untuk Brownies Oat Bar
¼ cup
Kurma (dipotong kiub)
¼ cup
Badam (dihancur kasar)
Buy the Products
How to Prepare:
Preheat oven to 150°C.

Panaskan ketuhar pada suhu 150°C.
Line a rectangular baking tray with baking paper.

Alaskan dulang pembakar dengan dengan kertas kalis minyak.
In a mixing bowl, add in egg, water and vegetable oil. Mix well.

Masukkan telur, air dan minyak sayuran dalam mangkuk. Gaul sebati.
Fold in Dr. Oetker Nona Brownies Mix, Dr. Oetker Quick Cook Oats, dates (roughly chopped) and Dr. Oetker Nona Cooking Chocolate (cut into cubes) and almond (roughly chopped).

Kemudian, masukkan tepung campuran Brownies Dr. Oetker Nona, Oat Segera Dimasak Dr. Oetker, kurma (dipotong kasar), Coklat Masakan Dr. Oetker Nona (dipotong kiub ) dan badam (dihancur kasar) dalam mangkuk dan gaul sebati.
Stir the mixture until well combined. Transfer the brownie mixture into baking tray. Spread the mixture evenly and press it down firmly as possible.

Tuangkan adunan tadi dalam dulang pembakar dan tekan menggunakan sudu supaya adunan tadi menjadi padat.
Bake the brownies mixture for 20-25 minutes.

Bakar adunan tersebut selama 20-25 minit.
Let the baked brownie oat bar cool before cutting into bar shape.

Sejukkan dan potong dalam bentuk kepingan bar.
Video Recipe: Click Here
PLEASE RATE THIS RECIPE
How did this recipe go?
PLEASE RATE THIS RECIPE
How did this recipe go?
More delicious ideas for you
Follow Us
Follow Dr. Oetker Malaysia