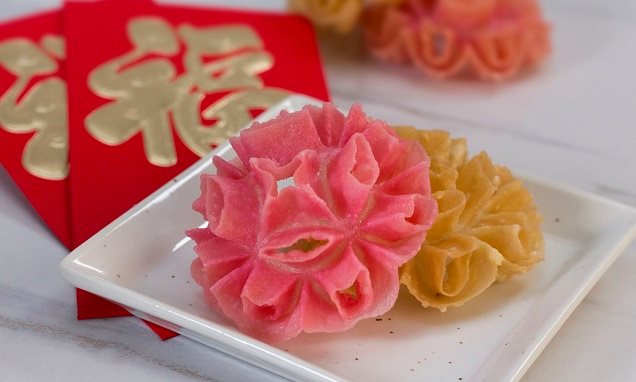 Blossom Cookies
Look how beautiful these cookies turned out!
Recipe Ingredients
How to Prepare
Recipe Ingredients
For Blossom Cookies
50 ml
Coconut Milk (Thick)
1 tbsp
White Sesame Seeds
How to Prepare:
Place the porcelain cups upside down on a wire rack. Heat oil in a pan over medium heat. Leave brass mould in the oil for a few minutes (fully covered by oil).
Place all ingredients in the mixing bowl, mix well.
Divide the batter into 2 mixing bowls. Add in red colour in one of the bowls, mix well.
Shake off excess oil from the mould, dip the mould into the batter just enough to cover the side (do not cover the top of the brass mould).
Place it in the oil, hold the mould for a few seconds and lightly shake the mould to loosen the cookies from the mould.
Fry the cookies until golden brown, turning on the other side as needed.
Remove cookies from pan and immediately place the cookies on porcelain cups. The cookies will curve and form flower shape as they cool down.
Keep it in an airtight container.
Notes
In case the mould is not hot, the batter will not stick to the mould.
PLEASE RATE THIS RECIPE
How did this recipe go?
PLEASE RATE THIS RECIPE
How did this recipe go?
More delicious ideas for you
Follow Us
Follow Dr. Oetker Malaysia